Cyberpunk 2077 won't hit its release date for a third time after, now releasing December 10.
CD Projekt Red announced on Twitter today the game would be delayed 21 days. The developer blamed the delay on difficulties stemming from shipping a game across so many platforms during the pandemic.
"The biggest challenge for us right now is shipping the game on current-gen, next-gen, and PC at the same time, which requires us to prepare and test 9 version of it (Xbox One/X, compatibility on Xbox Series S/X, PS4/Pro, compatibility on PS5, PC, Stadia) while working from home," studio heads Adam Badowski and Marcin Iwiński wrote in a statement.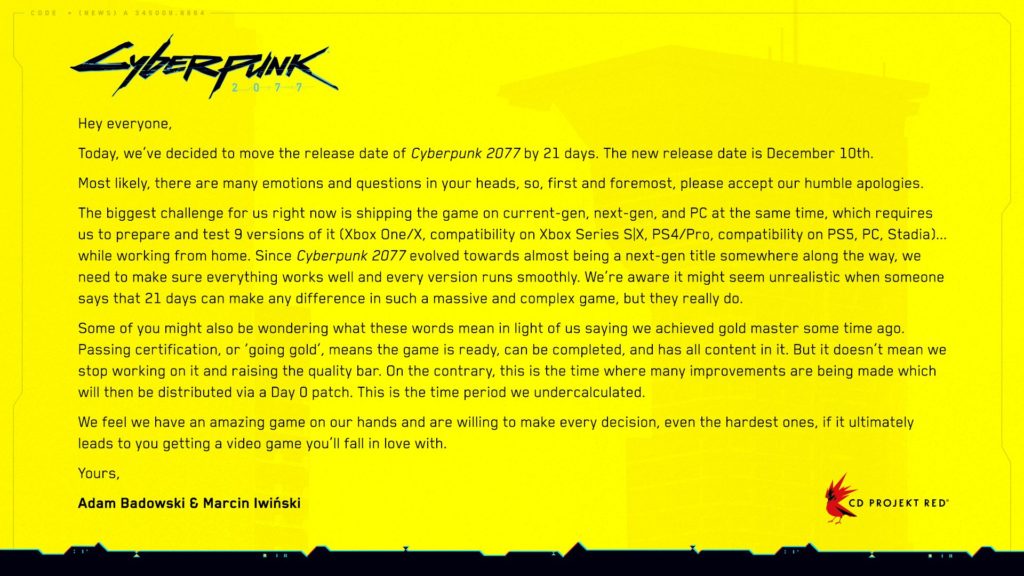 The studio heads acknowledge some might not think the delay will make a difference, but ensure it will. They also explain that while the upcoming action role-playing game went gold earlier this month, it does not mean work stopped on the project. It actually turned to making many improvements to the game to be distributed by a Day 0 patch and they under calculated the time needed.
Cyberpunk 2077 was originally set for release in April, but delayed until September 17, and then again until November 19. CD Projekt Red also faced criticism following a Bloomberg report last month stating developers were forced to crunch in the lead-up to release, requiring the team to work overtime each week. Badowski went on Twitter to defend the decision saying everyone would be compensated for the extra work. Iwiński previously said in an interview with Kotaku the studio would not crunch in an effort to finish the game.
You can check out a trailer on Cyberpunk 2077 here:
Cyberpunk 2077 will release on Xbox One, PlayStation 4, PC, and Stadia on December 10.