2020 brought us a plethora of things; a pandemic, the end of the annoying orange era, and plenty of good anime to watch. Even though I've enjoyed so many of the anime this year and would love to do a list including all of them, I must shorten it down to the top 10 anime of 2020. Like with any list though, there are some that narrowly miss the cut but should get mentioned. That's why I'm going to start with some honorable mentions; Scissor 7 (Netflix), D4DJ First Mix (CrunchyRoll), Deca-Dence (Hulu), and ID: Invaded (Hulu). Now with those out of the way, let's dive into the list so you can get to watching before the clock strikes midnight on New Year's Eve.
10: Pet (Amazon Prime)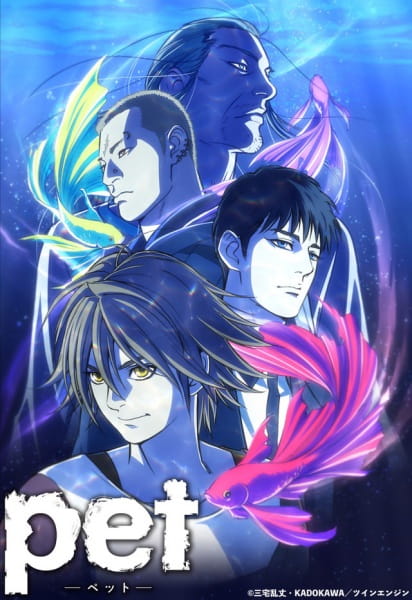 Pet is set in present time Japan, where young, gifted children are taken in by an organization and turned into tools of destruction. With their psychic abilities, the children are used to purge information from people's minds by surfing their nightmare realms in search of their safe spaces. This anime makes for a great watch because you see different members throughout the anime attempting to fulfill their own personal goals and beliefs. Pet also gives you a possible glimpse of what's in the minds of everyone around them and what people went through in life to make them who they are. Pet's ability to tell stories of the character's trauma while their mind is being explored and manipulated is second to none. This is definitely a trippy show visually and is bound to get the mind going.
9: Arte (Hulu)
Arte is a slice of life anime that follows a young noble named Arte as she goes against her mother's wishes of marrying someone to live a comfortable life, to instead become an artist. After many failed attempts at becoming an art apprentice, the happenstance of Leonardo Da Vinci walking by brought the opportunity for Arte to do so. This anime does a good job of showing the drive of a modern-day woman while showing the importance and technique of what art was in the Renaissance Era. I thoroughly enjoy this anime. It's fun, heart-warming, informative, and does a decent job of giving you a glimpse of what living in the Renaissance Era was like.
8: Toilet Bound Hanako-kun (Hulu)
Toilet-Bound Hanako-kun is a supernatural anime where a girl summons the spirit Hanako-kun to get her wish for love granted in exchange for something that's precious to her. The anime takes a spin when you find out that spirits change based on the rumor being told about them and Hanako is the Leader of the spirits. The anime explores the Seven Wonder Spirits of the school, their objects of power, and the mystery behind it all. This anime was a lot deeper than what I thought it would be. I went into it with the thought of it being something light that I could watch half-heartedly, but it wasn't. I was pleasantly surprised and encourage others to watch it. The action scenes are legit as well.
7: Tower of God (Crunchyroll)
Tower of God is a fantasy/ supernatural anime that follows Bam and his love for Rachel. Bam follows Rachel into the tower so that he could help her see the stars. Tower of God is filled with amazing characters, interesting powers, and a glimpse into the hierarchy of the Tower's politics and denizens. This anime had me glued and intrigued from start to finish. I'm excited and hope to be hearing an announcement of season 2 in the near future.
6: Darwin's Game (Crunchyroll)
Darwin's Game is a to the death anime that is prompted by a cellphone app. Once in, players must fight to the death or outlast the challenger until the time runs out in order to be declared the winner. Kaname joins the Darwin's Game by accepting a text with an invite to the game from a childhood friend. Kanome finds himself being chased by an invisible man with a Panda head wielding a baseball bat. Darwin's game PVP allows the winner to earn in-game points which can be cashed in for a lot of money. I take death animes with a grain of salt because I tend to find them shallow. Darwin's Game was a pleasant surprise for me and had a deep MMO element to it, which was an unexpected addition.
5: Infinite Dendogram (Hulu)
Infinite Dendrogram is an anime that takes place in a VR game that's so dynamic, that NPC's deaths are permanent, and every event shapes the world whether players participate or not. The anime follows Ray who was introduced to the game by his older brother Shu. From the very first episode, you witness how dynamic the world is and how every decision made affects the next event. Like death animes, Isekai's come every year as sure as the sun rises and sets and this year is no different. When I embarked on my journey of Infinite Dendrogram, I expected a fun series but, again, felt it would be shallow. I couldn't have been more wrong. I enjoyed this series from start to finish and hope there will be a season 2.
4: Appare-Ranman (Hulu)
Appare-Ranman follows the troublesome son of a prominent merchant family during the Meiji period Japan named Appare. Appare is an inventor that only cares about inventing and nothing else. Ignoring social norms and common courtesies, Appare constantly causes trouble for his town. Kosame, the head instructor of his family's swordsman dojo, is forced to keep an eye on Appare and to keep him out of trouble. This attempt ended getting both stranded in the middle of the ocean and then on a boat to America, where they entered a cross-country race. Appare-Ranman is fun, exciting, unique, and has an array of characters that represents every facet of life. This is another anime that I hope gets another season.
3: Wandering Witch: The Journey of Elaina (Hulu)

The title of this anime says it all. It stars a young witch by the name of Elaina traveling around the world and logging her adventures in her diary. During her travels, Elaina soon learns that the world can be a cruel mistress as well as a gentle comforter, in which it can be one and the same if you're unsure and straddling the fence. This is so high up on my list because the anime gives us a great character to follow from her journey of becoming a witch and then her life experiences. It does a great job being able to show us her emotions and the way she deals with things are very human and realistic, even in such a fantastical world. This alone shot this anime to my top three.
2: Somali and the Forest Spirit (Crunchyroll)
Somali and the Forest Spirit is a deep and heartfelt anime that takes place in a fantasy world akin to Earth. This anime sends us on an adventure with Somali and the Golem aka Dad as they travel the world in search of humans. Somali a small human girl being passed off as a minotaur is every bit of a small child filled with curiosity, wonder, and love. Golem is an unyielding guardian racing against his own time clock to get Somali to humans. This anime is filled with ups and downs, happiness and sadness, and does a really good job of reflecting the bias and prejudice of humans while showing that hatred can turn gentle people into monsters. I loved everything about this anime and would love to see a second season.
1: Great Pretender (Netflix)
Do you like Ocean's 11? Do you like anime? If you answered yes to both these questions, then the Great Pretenders is the anime for you. Japanese con artist Edamura Makoto tricks a tourist, but soon realizes that he's been duped as well. Edamura follows the con artist Laurent back to America and con artistry in its purest art form ensues. The anime batches together every few episodes like a saga. This anime is so heady and intelligent that I had no choice but to make this number one on the list. It also did so well that the second season released on November 25, only four months after the release of season one.
This year gave us a great variety of anime from Slice of Life to Shonen and, like in recent years, it also gave us a ton of Isekais. With that being said, I firmly believe this is one of the best years for anime overall in recent memory. So much so, that I even saw a list where Wandering Witch and Aparre-Ranman were at the top for the most-watched episodes. It made me happy to see a lot more people traveled outside of their Shonen roots and explored other anime genres often overlooked. I'm excited for 2021 as some of my favorites are finally getting new seasons such as Log Horizon, Reincarnated as a Slime, Welcome to Demon School Iruma-kun, and Quintessential Quintuplets just to name a few. The new kids on the block in 2021 that has me teeming with anticipation are Eden, Kemono Jihen, Peach Boy Riverside, Cyberpunk: Edgerunners, and Hortensia Saga. Let us know what your top 10 new anime of 2020 are in the comments below.