It's been 15 months since Square Enix announced a Nier mobile title would be coming to the U.S. and the wait is nearly over.
Publisher Square Enix and developer Applibot announced today NieR Reincarnation will release in the west on July 28th for android and iOS as well as a new trailer. Players can register early to receive bonus in-game materials and to be notified when the game goes live on their respective storefronts. The game already surpassed 400,000 pre-registrations and additional rewards will be given out as the numbers grow ahead of release.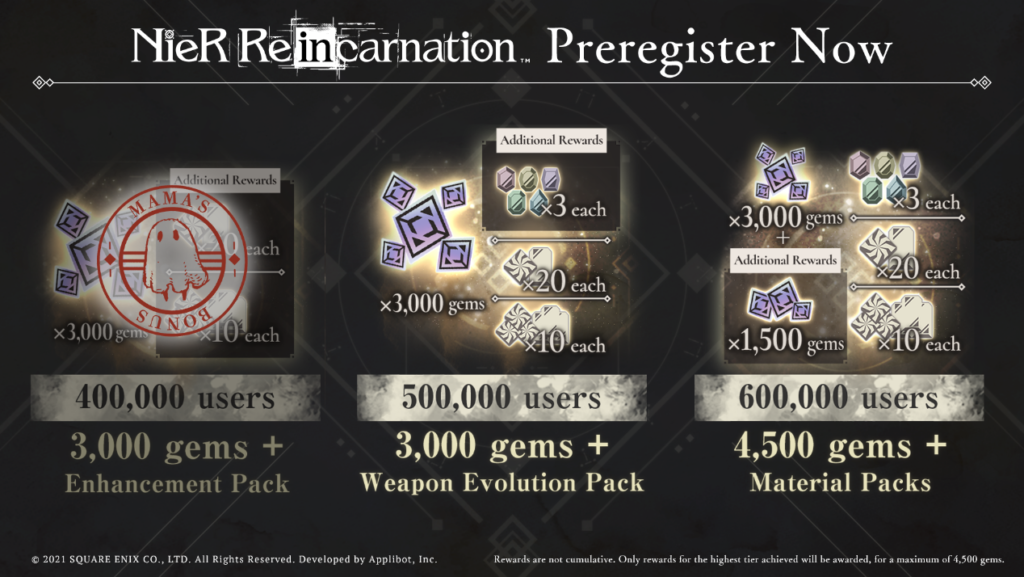 NieR Reincarnation takes place in the same world as NieR and NieR: Automata, but follows a new character called "The Girl of Light" as well as a ghost named Mama. It features a command-based action combat with RPG elements. As with many mobile titles, the game is free-to-play with a gacha-style system. This requires players to accumulate gems to pull for characters or items in the game. Series creator Yoko Taro worked on the mobile title as creative director and, based on the new trailer, his signature style clearly shows.
Nier Reincarnation Success In Japan
Taro revealed the mobile title alongside the announcement of Nier Replicant ver. 1.22474487139, a remaster of the original NieR, in March 2020. While all the focus looked to be centered on the remaster, stats indicate otherwise.
Japan saw the release of NieR Reincarnation on February 18 with instant success. In an article by GamesBeat writer Jeff Grubb, it debuted as the fourth top-grossing app on iPhone. It went on to hit number 1 the very next day. What likely helped its success, Square Enix positioned NieR Reincarnation as a true new entry in the series. Here is an overview of the game courtesy of Square Enix:
NieR Re[in]carnation is the latest game in the NieR series, and is developed specifically for mobile devices.
――――――――――――――――――――――――――――――――――――
All Prayers Lead to The Cage.

A girl awakens on a cold stone floor.
She finds herself in an infinitely vast place filled with buildings that touch the very sky.

Guided by a mysterious creature who calls herself Mama, she begins to explore her new surroundings.

To reclaim what she has lost—and atone for her sins—she sets off on a journey through this place of unknown creation.

…A place known as The Cage.
――――――――――――――――――――――――――――――――――――
You can learn more about the title by going here.