Following last week's delay of Destuction AllStars, we now got to see what exactly drivers will do in the upcoming destruction derby title.
Lucid Games community manager George Rule posted on the PlayStation Blog today details on the various game modes as well as a new gameplay trailer. Those modes include Mayhem, Carnado, Stockpile, Gridfall, and of course Training.
Mayhem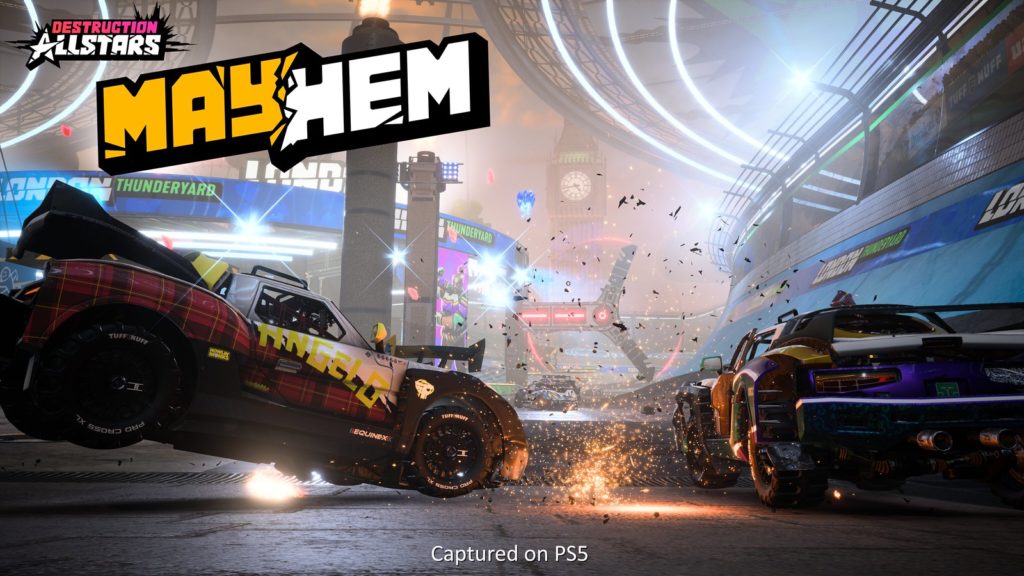 Mayhem plays like deathmatch. This can be played as a solo or a team. The goal is to deal as much damage as possible and wreck as many opponents as you can before time ends. The player or team with the highest score wins.
Carnado
The goal in Carnado sounds similar to Destiny 2's Gambit without the Player vs Environment aspect. Again playable in solo or as a team, Drivers will look to collect gears across the map by damaging and wrecking the opposition. After collecting them, the driver must bank the gears by sacrificing their vehicle in the Carnado to score.
Stockpile
Stockpile plays like capture and control. Played in teams, damaging and wrecking opponents will once again net gears to be picked up. Players will collect them on foot and must traverse to one of three banks on the map. They must then stand on the bank to deposit the gear and claim it for their squad. The team with the most banks at the end of the game wins.
Gridfall
Gridfall takes on the form of a battle royale. 16 AllStars enter the match, but one must last to the end while the arena falls a part. Drivers can wreck opponents off the map. If you get wrecked or knocked out, you can trade a respawn in to keep going. If you run out of respawns, you get eliminated.
Training will allow players to practice with one of the 16 playable AllStars and complete the game's tutorial. Players can also compete in challenges to unlock new cosmetics as well as earn coins by completing challengers and leveling up in multiplayer to purchase items as well.
The game will also feature seasons, something commonly found in battle royales like Fortnite, Apex, and Call of Duty Warzone, which will see new AllStars, cosmetics, and features added.
You can snag Destruction AllStars on PS plus on February 2021 and the new Playstation 5 on November 12