While Super Smash Bros. Ultimate fans wait to see who the final character of its DLC pack will be, a new challenger in the genre approaches…and it's from an unlikely source.
IGN revealed today Nickelodeon All-Star Brawl blasts its way to consoles later this fall with a stacked character lineup and more characters to come. The Super Smash Bros. influenced title will release on PlayStation 5, PS4, Xbox Series X/S, Xbox One, and Nintendo Switch. Ludosity and Fair Play Labs are developing the title and it will be published by GameMill Entertainment. If you need convincing on how wacky these fighting match-ups might be, check out the reveal trailer.
My mouth couldn't drop any farther after seeing the trailer. Little did I think I wanted to see who could win in a fight between Patrick Star and Nigel Thornberry. Yet, here we are in 2021 and I'm thinking just that. We don't know the full roster as of now, but here is the list of those we do know.
Michelangelo – Teenage Mutant Ninja Turtles
Leonardo – Teenage Mutant Ninja Turtles
Nigel Thornberry – The Wild Thornberrys
Powdered Toast Man – Ren & Stimpy
SpongeBob SquarePants – SpongeBob SquarePants
Sandy Cheeks – SpongeBob SquarePants
Patrick Star – SpongeBob SquarePants
Oblina – Aaahh!!! Real Monsters
Lucy Loud – The Loud House
Lincoln Loud – The Loud House
Helga – Hey Arnold!
Reptar – Rugrats
Zim – Invader Zim
Danny Phantom – Danny Phantom
Seeing SpongeBob SquarePants featured makes complete sense to me. I want to shout out the representation of cartoons of my childhood in Ren & Stimpy, Aaahh!! Real Monsters, and The Wild Thornberrys to name a few. The dream match-ups run wild in my imagination. The epic saga of Powdered Toast Man versus Zim sounds like a headline for a sold out arena.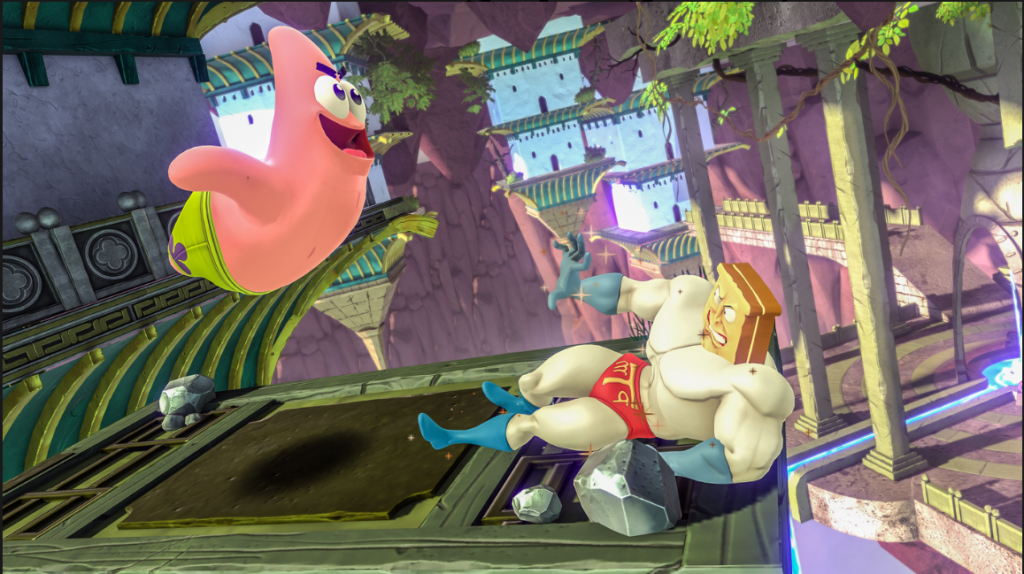 All-Star Brawl Packed Content
IGN reports All-Star Brawl will also include 20 different levels based on Nickelodeon Shows. I caught in the trailer quick looks at Jellyfish Fields and the Flying Dutchman's ship from SpongeBob. It will include single player as well as local and online multiplayer. Players can unlock new moves for every fighter and other bonus in-game content. Last but not least, Ludosity says the game will feature rollback netcode on supported platforms. I can already hear fighting game fans cheering. This could position All-Star Brawl as a legitimate contender against Super Smash Bros. as the online of the latter has continued to anger fans.
In all seriousness while my optimism for the game grows, the character design leaves a bit to be desired. While Michelangelo and others look great, others like Patrick and Sandy could be found in my nightmares. Though graphics are important as they always say, content is king. The driving force in the trailer is the game screams personality and fun combat. Will the latter shine in the final product? We will have to wait and see. I just know that while I continue to scream for a PlayStation All-Stars 2, Nickelodeon plans to pick up the slack.